What's up in Chicago?
Since last year, Chicago proudly ranks number 2, between New York and Los Angeles, at the "Best Cities" of United States! It sits at the head of the culinary table and offers an enviable array of attractions and distinct opportunities for visitors alike to explore and appreciate the City of Big Shoulders. Let's go with Luxe Magazine!
Enjoy Chicago's South Loop and Help Fund Public Art!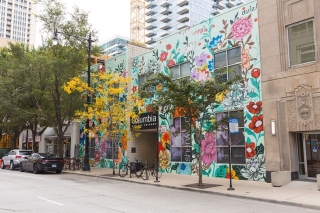 Chicago - WAC - street art tours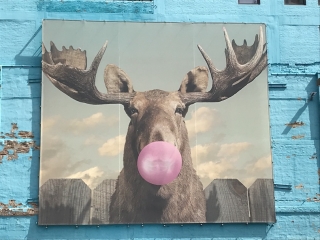 Chicago - Street art
The Wabash Arts Corridor (WAC) launched by Columbia College Chicago offers this summer, public tours of the
large-scale mural installations
and collaborative public art projects. The
90-minute tours
will feature some of WAC's most famous towering murals as well as
hidden gems
tucked away in alleys, revealing behind-the-scenes stories about how some of the most
iconic murals
came to be. Audiences will learn about the local, national and international artists who have helped grow this public art program into one of
the largest urban collections in just 5 years
.
Prices are $18 for adults and $12 for seniors; children under five are free. Tickets can be purchased online at http://shop.colum.edu/brands/ticketed-events/
Historical Summer Walking Tours at the Driehaus Museum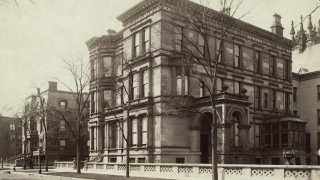 Mccormickville - tour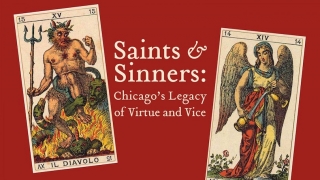 Saints and Sinners
Here's some very interesting tours to do!
Streeterville Walking Tour
: From its "Rags to Riches" squatter beginnings, explore
Streeterville
and its fascinating history of
hidden secrets
, enclaves of art and academia, architectural wonders, and exciting tales of treachery.
McCormickville Walking Tour
: Historian Sally Kalmbach will illuminate the lives of the
prominent families
and notable public figures who once called the area surrounding the Nickerson mansion home.
Saints and Sinners Tour
: Saint or Sinner? You decide, on this River North neighborhood walking tour that explores Chicago's complex
history of corruption
and altruism through visits to
famous watering-holes and churches
.
Urban Adventure Cruise® woth Mercury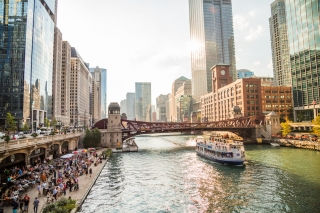 Chicago - the riverwalk
Experience it all—
Chicago's glorious skyscrapers
, historic buildings and modern marvels—on Mercury, the Skyline Cruiseline's most popular tour, the Urban Adventure Cruise®! Relax and unwind on a scenic Chicago River boat tour and Lake Michigan cruise. You'll enjoy lively narration and
stories of Chicago's rich history
as you take in the
Willis Tower
, Aon Center,
John Hancock Building
, Museum Campus,
Marina City
and more. It's fun for the whole family!
From April 26 to October 14: Adults $36 / Kids 5-15 $15 / Under 5 ride free
Andy Warhol: From A to B and Back Again (October 20, 2019 to January 26, 2020)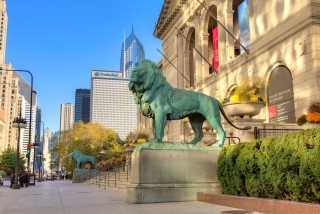 Art Institute of Chicago
The
first US retrospective of Andy Warhol since 1989
—reconsiders the work of one of the most inventive, influential and important American artists. Building on a wealth of new materials, research and scholarship that has emerged since Warhol's untimely death in 1987, the exhibition reveals
new complexities about the artist
we think we know and introduces a Warhol for the 21st century. Featuring
more than 300 works
, the exhibition positions Warhol's career as a continuum, demonstrating that he didn't slow down after surviving the assassination attempt that nearly took his life in 1968 but entered into a period of intense experimentation. The show illuminates the breadth, depth and interconnectedness of the artist's production, from his beginnings as a
commercial illustrator
in the 1950s, to his i
conic Pop masterpieces
of the early 1960s, to the experimental work in film and other mediums from the 1960s and 70s, to his innovative
use of readymade
abstraction and the painterly sublime in the 1980s. His repetitions, distortions, camouflaging, incongruous color and recycling of his own imagery challenge our faith in images and the value of cultural icons,
anticipating the
profound effects and
issues of the current digital age
.
The Chicago Blues Experience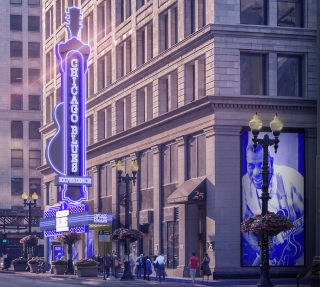 The Chicago Blues Experience
Chicago is the
birthplace of modern blues
, and The Chicago Blues Experience, opening in 2020, will celebrate
pioneering artists
and generations of musicians who have been influenced by blues and continue to carry on its traditions. Set
near Millennium Park
, it will be filled with history-driven interactive displays, tributes to local legends and Chicago blues memorabilia, as well as a
performance lounge
and restaurant. A very good season to come back to Chicago next year!
Octobre 2019
By Luxe Magazine