The new Evo T2: the first tender that's also a day cruiser
Evo Yachts raises the curtain on a new and exclusive model that stands out for its comprehensive amenities, features and fine finishes. By Valerio Rivellini, Evo T2 is a seven-meter boat with an appealing design, created as a superyacht tender but also perfect as a day boat.
Top of the range equipment and fine finishings for the new arrival from Evo Yachts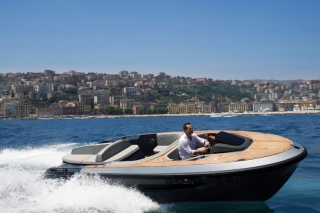 Evo Yachts - Evo T2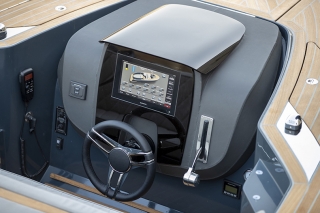 Evo Yachts - Evo T2
Recently delivered to the happy owner, EVO T2 is ready to make its home in a superyacht garage and be used to accompany guests on their daily outings. The latest innovative project completed by the Evo Yachts shipyard is a custom tender commissioned to
designer Valerio Rivellini
by the owner of a new
46-meter Sanlorenzo superyacht
. The end result is a
unique craft
, offering the
comfort
and amenities of a proper day cruiser in a seven-meter tender. Evo T2's standout features are the comprehensive range of equipment and the care and attention lavished on every detail. This new model from Evo Yachts is a
skillful concentration of functionality
, comfort, luxury and design, resulting in a means of transport for the crew as well as an elegant and
entertaining motorboat for family trips
.
The tender has a steering console that can be raised or lowered electrically to make driving easier. This solution means that Evo T2 has a height of just 1.45 meters with the console fully lowered, making it the
perfect fit for garages and beach areas
.
Originally designed as a custom project, it will enter
series production
and launch a new range of day boats for superyachts.
Octobre 2019
By Luxe Magazine