Rockwell Group unveils new Moxy Chelsea, a modern Secret Garden in New York's Flower District
Following the opening of Moxy Times Square, Rockwell Group has designed the public and amenity spaces at Moxy Chelsea in New York. Tucked into the bustle of Manhattan's historic Flower District, the hotel's restaurant, lounge and rooftop were conceived as places of discovery, surprise and rejuvenation!
Moxy Chelsea © Michael Kleinberg
Upon entering Moxy Chelsea, guests encounter a
botanically-inspired space
seen thorough a modern lens— Frances Hodgson Burnett's "The Secret Garden" meets Milan's Villa Necchi Campiglio. Appealing to today's
youthful global traveller
or
sophisticated city insider
who craves a contextual sense of place as well as an escape, Rockwell Group has combined layers of rich colour, material, pattern and form to create a
vibrant
and welcoming
design
. The end result is a highly sophisticated and curated environment that embraces today's multi-tasking, multi-communicating and
multi-experiential world
.
Featuring
exquisite craftsmanship
and unexpected details at every turn, Rockwell Group's design scheme for Moxy Chelsea comprises of
Feroce
, an Italian restaurant on the Ground Floor, a
dynamic lobby lounge
and the
Fleur Room
, an
indoor-outdoor rooftop bar
with views of the Empire State Building and New York's famed skyline...
Ground floor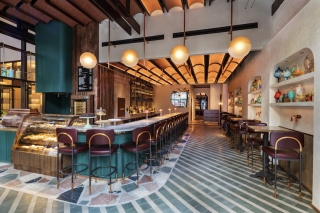 Moxy Chelsea © Michael Kleinberg
Italian restaurant Feroce
is entered at street level and organised as a
series of choreographed rooms
that lead to an
outdoor terrace
. Inspired to create a clear distinction between the street and the hotel, as well as an immediate, curated moment, a collection of Italian candy displays greets visitors at the 28th Street entrance. Beyond the
apothecary candy jars
,
aperitif and digestif bottles
hover on delicate glass and brass shelves creating an unexpected juxtaposition that sets the tone for everything Moxy Chelsea. After guests enter the transparent and
ribbed glass-paned lobby
vestibule they also encounter a window-side,
old school doughnut machine
that appeals to everyone's inner child and a pass-through window that allows locals to pick up coffee, freshly-made doughnuts and
pastries on the go
in the morning.
Recessed
Venetian plastered walls
holding a collection of containers, a
terracotta-like barrel vault ceiling
, and refined geometric light fixtures, all conspire to transport guests to early 20th Century Milan and Rome. A ribbon of
over-scaled mosaic tile floor
dramatizes the counter from the expanse of floor with a stripped, biased pattern that introduces guests to a geometric motif that repeats throughout Moxy Chelsea.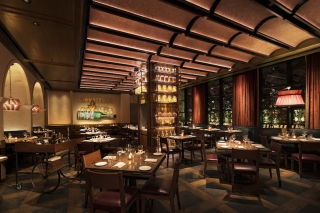 Moxy Chelsea © Michael Kleinberg
Passing through Feroce's café and bar, guests enter the
main dining room
of the restaurant, which is capped with a barrel-vaulted ceiling. Three niches fitted with
semi-circular Hollywood banquets
face opposite a gridded industrial window looking onto the
outdoor dining courtyard
spanned with a 50-feet long banquet seating and terrazzo-topped tables. To further animate the room, Rockwell Group also designed bespoke
grappa-tasting
carts that can be moved throughout the space.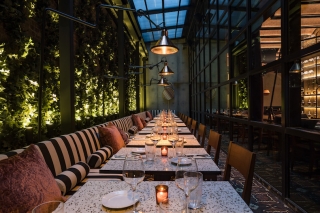 Moxy Chelsea © Michael Kleinberg
A sliding glass door leads to the
private dining room
, where the walls feature large-scale, deconstructed
vintage Italian liquor posters
behind
antiqued mirrors
. Ground floor restrooms have rich,
emerald-painted walls
and dark terrazzo, creating immersive, luxurious hideaways. Restrooms in the restaurant and second floor lounge features replicas of
Italian figurative sculptures in irreverent poses
further reveal the hotel's sense of fun and whimsy.
Second Floor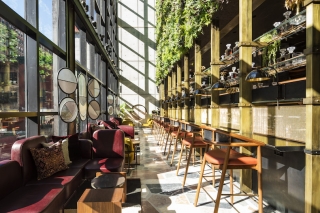 Moxy Chelsea © Michael Kleinberg
Moxy Chelsea's vintage Italian flair continues on the second floor with the
Moxy Lounge
, a hub of activity for the hotel guests. The lounge is a narrative of counterpoints, contrasts, and cultural cues, a distillation of the urban experience bottled in a dynamically choreographed space that offers enjoyment, comfort, and flexibility. From the entry vestibule guests ascend a grand concrete staircase, encased in
tubular glass
, arriving on the second floor
to meet, eat, drink, work, lounge, and people-watch
. The pleasures of home, work, travel and everything in-between merge into a
dynamic social space
.
To the right of the space, the
Winter Garden
, which looks out onto the heart of NYC's Flower District, spans the width of the hotel. It is sandwiched
between a live green 20-foot-high wall
and partially screened glazing with tinted circular panels that echo the
platonic geometries of Modernism
. The bar is screened from the Winter Garden by a
kinetic plane of tilting glass tiles
that change configuration.
Grab & Go cabinets at The Pickup
, next to the bar,
offer snacks
and beverages 24/7.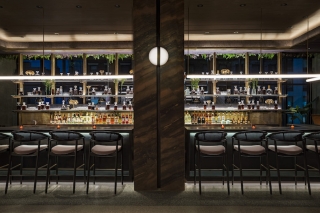 Moxy Chelsea © Michael Kleinberg
To the left of the stairs, a lounge area adjacent to the bar is anchored by a
20ft long sofa
and a family style table. Two studios provide guests with a quiet,
private workspace
during the day. In the evening, these custom tables fold down to create credenzas and plush, modular furniture creates a space for socialising.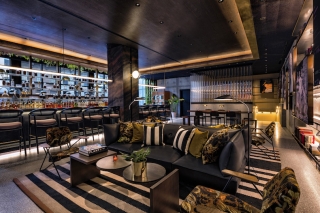 Moxy Chelsea © Michael Kleinberg
Each area of the Moxy lounge is marked by a variation in terrazzo flooring, ranging from
coloured slabs of tile
, scaled from "The Little Shop of Horrors", to crisp geometrics in black. The elevator bank marking the front and back of the lounge is wrapped in shelving with a curated display of
artwork
. What first appears to be reproductions of figurines have in fact been transformed into
humorous caricatures
, almost like a sculptural version of music sampling. A similar approach to disrupting the expected appears in paintings where classical Italian scenes are distorted by a "technical glitch".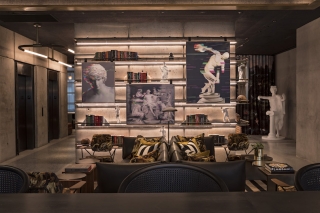 Moxy Chelsea © Michael Kleinberg
Moving beyond the lift area guests enter another dynamic space defined by elegant transformability. Custom tables and chairs shape-shift to accommodate multiple uses throughout the day,
from hanging out to business meetings
. The space can also be sub-divided with sliding screens to create private rooms. Book-ending the lounge floor is a
dining terrace with a pizza oven
as its focal point.
Rooftop Bar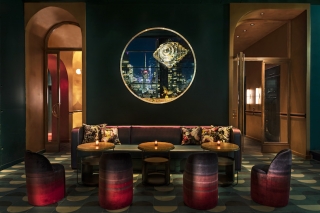 Moxy Chelsea © Michael Kleinberg
Guests enter the rooftop bar from the street level via a mysterious and immersive vestibule and staircase. Wrapped in gigantic super graphics of botanicals, the visuals are heightened by a black background that appears to float the florals in three dimensions. They ascend to the second-floor lounge where elevators whisk them to
Fleur Room
,
the intimate indoor and outdoor rooftop bar on the 35th floor
.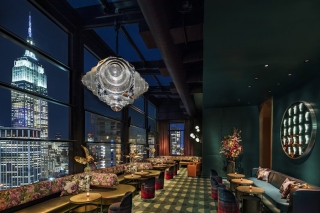 Moxy Chelsea © Michael Kleinberg
Arriving into the barrel-vaulted vestibule wrapped in
bronze plaster
, guests can move to an indoor space to the south or outdoor space to the north. The Fleur Room interiors are comprised of a
lively palette of materials
. Rough concrete and industrial fenestration are mixed with polished bronze,
warm wall coverings
and
plush furnishings
to create
glamour with a touch of grit
. Subdued indirect lighting both reinforces the
spectacular views
and heightens the intimacy of the space, while
inverted resin pyramids
glow with embedded florals, recalling the surrounding Garden District.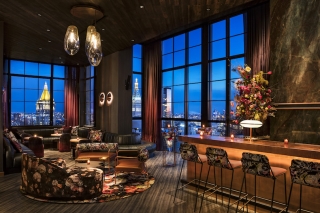 Moxy Chelsea © Michael Kleinberg
The bar in the Fleur Room appears like a bronze extrusion that recalls the chic precision of intimate bars found in Rome or Milan. Opposite the bar is an indoor/outdoor lounge wrapped in kinetic windows that transform the space into a
sky veranda
at the touch of a button.
Doubling as a
dance area
, the bar's flooring is made from concrete tiles in black, white, and green configured as segments of circles, recalling the
circular motif
used throughout the public spaces. The bathroom ceiling fixture is made from bronze and looks like the plucked daisy in a game of "she-loves-me, she-loves-me-not," with
petals drifting down the walls
and settling to create a red resin floor. A second corridor linking the bar and lounge areas is lined with replicas of classical sculptures that double as selfie stations, a sly nod to the
"live" corridor of torchieres in Jean Cocteau's "Beauty and the Beast."
Juillet 2019
By Luxe Magazine