Alpine Slovenia: Activities among the highest mountains and the wildest waters
Alpine Slovenia is a world of friendly and accessible mountains and hills. On the one hand, natural treasures of the highest peaks, green valleys and the most beautiful Slovenian lakes are protected by the fairy tale Goldhorn, while on the other, dome- shaped hills meet the town with the oldest vine in the world. Hiking and biking trails which take you to beautiful views are only part of exceptional opportunities for activities provided by nature all year round.
Explore Triglav National Park and discover nature at its purest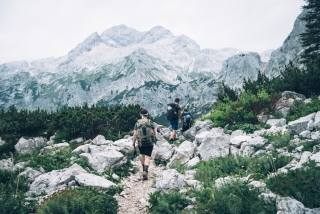 Slovénie © Eeva Makinen
The park's trails will lead you to countless
gems of nature
. Observe and take
photos of wildlife
in the company of a tour guide or visit multi-vision presentations and exhibitions at its tourist information centres.
Experience (fifty) shades of green!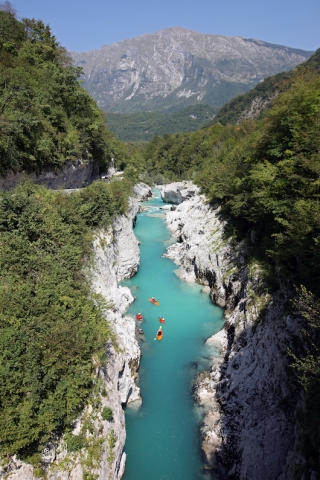 Kayaking, Soca river, Kobarid, en Slovénie © Aleš Fevžer.jpg
Enjoy rafting, canyoning, the
longest zip line in Europe
, and other sports and adrenalin challenges. Visit natural
swimming spots
or go
fishing
. Enjoy
views of the Soča
from the air or from vantage points on hiking trails. And while you certainly don't want to miss out on tasting world-renowned culinary delicacies prepared by chef Ana Roš, you could drop by at several other
gastronomic stops
by the Soča.
Enjoy the cosmopolitan lake Bled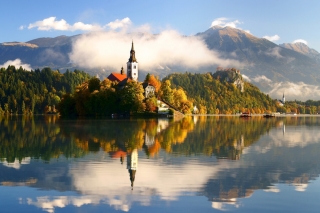 Bled en Slovénie © Janez Tolar
Take a ride in a traditional "pletna" boat to the
island of Lake Bled
, the icon of Alpine Slovenia, ring the bell in the church for good luck, visit Bled Castle for the most impressive views, and taste the famous Bled cream cake.
Enjoy Bohinj responsibly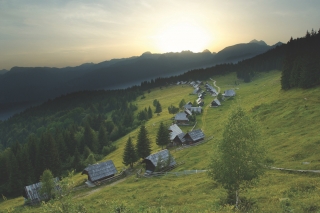 Zajamniki en Slovénie © Tomo Jeseničnik
Bohinj, an area in the
Triglav National Park
is part of Alpine Pearls network, which supports sustainable travel. Opt for a public transport here. Hop aboard the museum train and take a ride on the picturesque railway. Visit the
International Wildflower Festival
.
Taste The Alpine Slovenia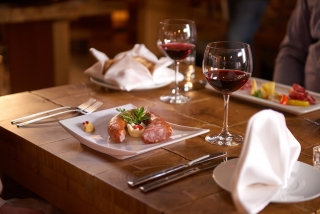 The Carnolian sausage
If you haven't tasted a slice of bread spread with
zaseka
, or a
few slices of sausage
and Bohinj, Kobarid or
Bovec cheese
, or a spoonfull of honey, you have never visited Slovenia's wonderful Alpine region. Grazing livestock, forests rich in forest fruits and wild game, buckwheat and grain fields, crystal-clear rivers and lakes teeming with trout, along with ower-dotted fields luring honeybees are the basic elements contributing to the
culinary diversity
of this part of the country, which includes tasty varieties of buckwheat and
maize žganci
mash and buckwheat, millet and barley groats (
kaša
).
Turnips
stuffed with groats, cabbage with potatoes, apple sauce with kidney beans, boiled dough dumplings called
krapi
, stuffed with curds, millet groats or minced dried pears seasoned with melted lard, are local culinary specialities. The local marble
trout
, Bohinj trout and brook trout are rolled in buckwheat or maize trdinka flour, which is grown in Bohinj, and deep fried.
Avril 2019
By Luxe Magazine