Knai Bang Chatt resort : a new sanctuary in Cambodia
Cambodia is one of the hot destinations this year! So, plan a trip in this region of Southeast Asia, with such a rich natural and cultural heritage! In addition, the provinces of Kep and Kampot, located 2.5 hours from Phnom Penh, are still spared by tourism. At the end of winding roads and charismatic remains, hides a stunning resort...
Less is more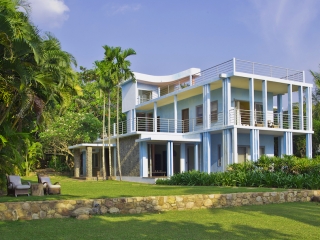 Knai Bang Chatt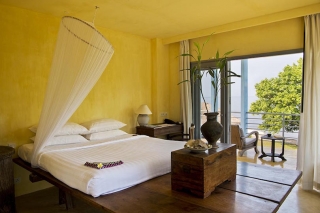 Knai Bang Chatt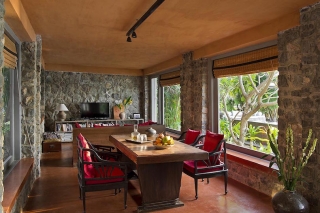 Knai Bang Chatt
Just a 1.5-hour drive from Sihanoukville, Knai Bang Chatt comprises five villas, three of which were originally built in the early' 60s by students of Vann Molyann, - father of New Khmer Architecture, and himself a
protégé of Le Corbusier
- to be homes of prominent individuals in Kep. Abandoned and stripped bare in the '70s during the tragic fighting between the Khmer Rouge and armed forces, the villas have since been sensitively restored and converted into
18 rooms and suites
. Knai Bang Chatt boasts an iconic design history from the Le Corbusier School of Architecture and gives an authentic taste of today's "real Cambodia", revealing a peaceful way of life beyond the temples with a range of cultural, coastal and rural destination experiences. Each room is
individually designed and minimalist
, following the
Wabi Sabi Japanese tradition
of finding beauty in natural imperfections. There is no artwork hanging on the walls, but instead a carefully curated selection of natural materials, earthy hues, local antiques and artefacts, to create a
rustic feel
.
A sustainable resort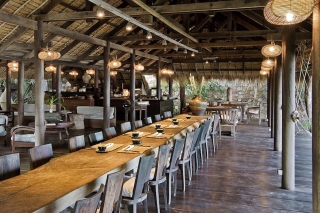 Knai Bang Chatt
As the first hotel in Cambodia to be recognized as internationally sustainable. Owner, Jef Moons is passionately committed to empowering the local community. The hotel has a genuine connection to the local community and environment, having invested over $ 1 million
in village-based development projects
across the province including the "Hand in Hand" Cambodia socio-economic empowerment project. The hotel has been
certified Gold
to the "Green Growth 2050 Global Standard", and a full time Sustainability Manager is on site to ensure that this benchmark of excellence is upheld.
A global experience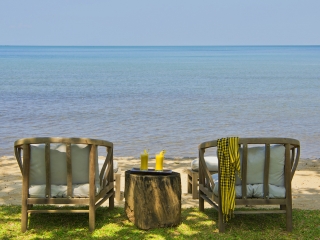 Knai Bang Chatt
Kep avoids all of Cambodia's tourist traps and is truly one of the
last remaining hidden gems on the south coast
. Still as yet untouched by tourists, with wide winding roads and crumbling colonial villas,
Kep seafront
has a long promenade punctuated by statues where vendors line up the waterfront at the nearby crab market. Beyond the town, the enticing region is home to rural countryside revealing
rivers
, lakes,
islands
, caves,
pagodas
, plantations,
pepper farms
and mangroves. The destination truly offres visitors a picturesque, peaceful holiday experience. Highlights include the "Kep Discovery Tour" taking guests to visit abandoned ruins, dine at renowned local crab shacks, and to see
hillside temples
and the iconic Siren of the Sea statue on Kep Beach.
Mars 2019
By La rédaction