La Côte Saint-Jacques : welcome home !
La Côte Saint-Jacques & Spa ***** is an enchanting place, at the gateway to Burgundy. Just an hour and a half driving from Paris and Dijon, this Relais & Châteaux is located in Joigny, a town of art and history, built in an amphitheatre with its half-timbered buildings jostling cheek to jowl. Come and eat and stay !
A river runs along It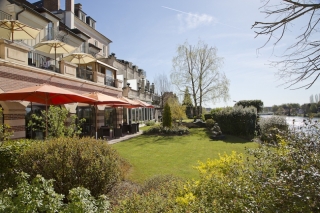 La Côte Saint-Jacques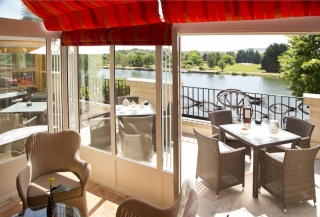 La Côte Saint-Jacques
From the minute you arrive, you catch a glimpse of the
delightful countryside
around. Following the season, you will choose either the summer lounge which opens onto an
amazing terrace
jutting out
over the river Yonne
, or the winter lounge with its open fire and magnificent library along with its cookery books.
Karine and Jean-Michel Lorain
, the owners of the property, will make their best to make you feel at home !
A design cocoon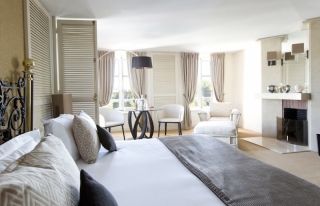 La Côte Saint-Jacques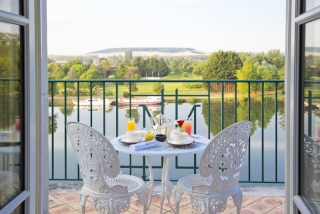 La Côte Saint-Jacques
The interior designers used photos taken from the latest works by Jean-Michel Lorain on
vegetables
,
herbs
and
fruits
to create their harmonies of colors and textures. Fabric hangings, design light fittings, chocolate and light brown nuances or even purple and prune unless you prefer immaculate white. Every
rooms
and
suites
has its own individual character with stone fireplaces, open beams, bow windows, spacious bathrooms with
outside views
. Ten of the rooms are nestled in the Maison de famille. They are so cozy !
A temple for wellness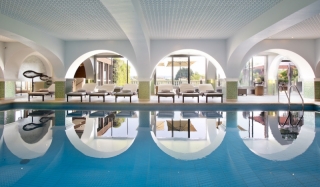 La Côte Saint-Jacques Spa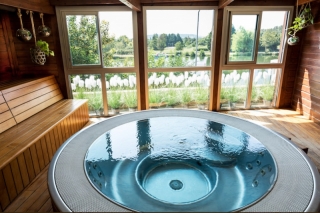 Imagine
800 square-meters
organised on two levels, entirely dedicated to your well-being ! On the first level, you will find a superb
indoor pool
and a jacuzzi with a panoramic view over the river. On the lower floor, you will enjoy a care centre with hammam, sauna,
fitness room
, rooms for massages and beauty. A VIP room also provides treatments for couples with a
Japanese Ofuro bath
... Try it ! Divine ! At last, you will also find a room with a heated table, an
affusion shower
and a private hammam, a nail bar and a make-up area. Jean-Michel Lorain has thus chosen to work with two prestigious and highly complementary brands: Omnisens for the wellness treatments and Carita for the beauty treatments. To round off the Spa, he opened
a "Wellness" restaurant
in the Orangerie, where you will enjoy light, balanced and tasty dishes. A place where "low in calories" rhymes with gastronomy with slimness !
A very creative cuisine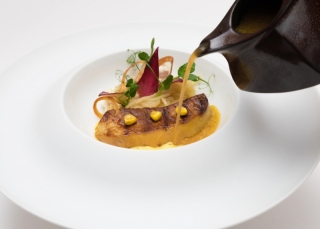 La Côte Saint-Jacques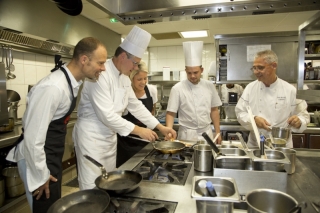 La Côte Saint-Jacques - Cooking lessons
La Côte Saint-Jacques gastronomy
At the main restaurant, the menu is simultaneously recorded in the history of our House and of modernity and creativity which respects
the magic of every product
brought to the kitchen by the market gardeners, the stockbreeders, the fishermen and other skilled masters. The dishes of an apparent simplicity conceal the hidden flavors that one discovers gradually upon a degustation thanks to
a skillful game of textures and contrasts
. Among his signature dishes, the Chef cooks the
Bresse chicken steamed in champagne
, and the famous homemade pork blood sausage accompanied with fabulous old fashioned mashed potatoes !
What to do or visit around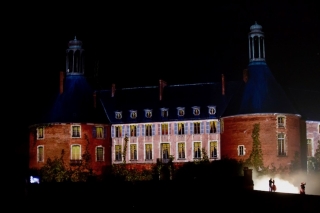 Château de Saint-Fargeau © Château de Saint-Fargeau
There are plenty of tourist itineraries where you can discover the heritage of the Yonne region ! La Puisaye, with Saint Sauveur, the area where Colette lived,
Saint Fargeau and its stunning castle
that offer one of the most beautiful "sound and light" shows in summer in Europe with more than 600 performers ! Other walks: the Grottos of Arcy-sur-Cure, the Château de Tanlay and the Château d'Ancy-le-Franc, Pontigny Abbey and a host of classified sites, including the construction, with the methods and techniques of the Middle Ages, of the Château de Guédelon, and also the towns of Auxerre and
Sens
with its so beautiful
gothic cathedral
! The Yonne also has an important
viticultural heritage
and
Chablis
(only 30 km from Joigny) is the standard bearer of the region. A considerable number of towns produce quality wines: Epineuil, Irancy, Coulanges la Vineuse, Saint Bris...
Février 2019
By Katya PELLEGRINO
You will also like