La Mamounia: the authentic spirit of Marrakech
La Mamounia: a legendary palace that is part of the fabric of Marrakesh, its history, colours and traditions. A story bursting with life that offers a chance to taste the charms of Morocco's fine art of living...
In the heart of Marrakech, nestled in a 17acre park, La Mamounia is a legend in itself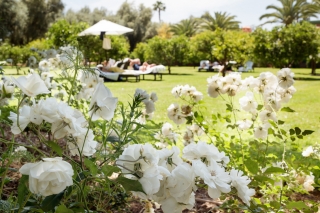 La Mamounia - the gardens...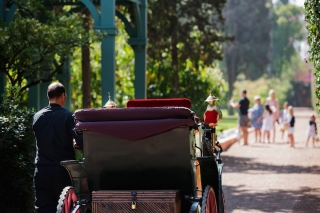 La Mamounia and its gardens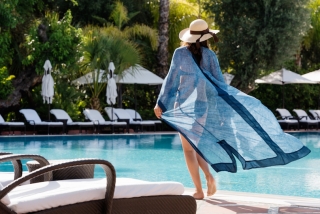 La Mamounia - By the pool - the gardens
In the 18e century, King Sidi Mohammed Ben Abdallah was customary to offer his sons, as a wedding gift, a house and a garden located
outside the Kasbah
. These
gardens
or 'Arsats' are still known today, but only the arsat al-Mamoun was destined to become famous and inspire the name of La Mamounia. Considered one of the best hotels worldwide, it is located within walking distance to the Koutoubia mosque and the Jemaa el Fna plaza.
Luxurious hideaway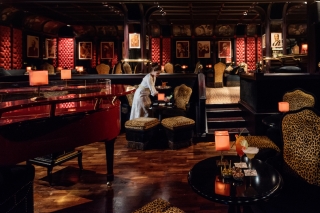 La Mamounia - Churchill bar
Conceived in 1923 for an essentially European clientele, the hotel was renovated several times. It reopened last in 2009 with 210 keys, almost entirely refurbished by renowned
designer Jacques Garcia
. La Mamounia is not only the first luxury hotel established in Marrakech, it is legendary also because of all the celebrities that have passed through its doors, from Jet Set socialites to movie stars, royalty, writers and politicians.
Winston Churchill was a fan
, and a bar is named after him. The exclusive character of the location gives the hotel a homey feel, while it also provides the upscale services of a luxury hotel.
Art Deco meets Orientalism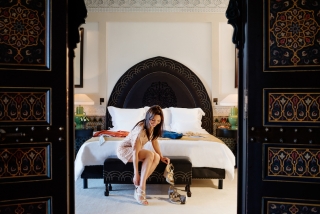 La Mamounia - From your room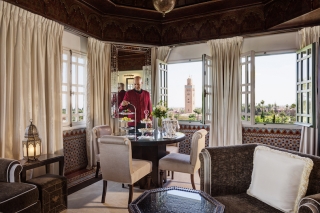 La Mamounia - Koutoubia Suite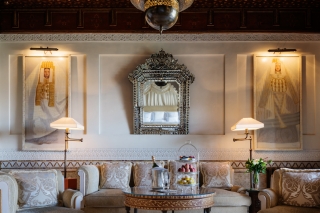 La Mamounia - Baldaquin Suite
All of the 135 rooms, 65 suites, 6 exceptional suites and 3 'riads' use traditional decorative elements such as
zelliges
,
marble
,
musharabieh screens
and
Arabian doors
,
tadellakt
and sculpted wood. Venetian mirrors opposing each other create a subtle illusion of 'mise en abîme'. The revisited traditional local style is complemented with fine paintings and black and white photographs depicting local scenes. Some suites are fitted with balconies overlooking the garden, the
swimming pool
and the Atlas Mountains in the distance.
Oriental beauty treatments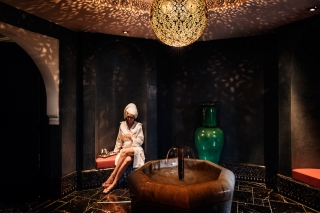 La Mamounia - Spa
The Spa is simply spectacular, mixing Moroccan culture with oriental tradition. In addition to some 80 treatments, the hairdresser salon partners with famous Christophe Robin Parisian brand while
Swiss brand Valmont
, the expert in
cellular cosmetology
has created special products unique to La Mamounia. A dedicated shop located in the exquisite 'Andalus Patio' allows to stock up on goodies to bring home.
Be welcome and enjoy!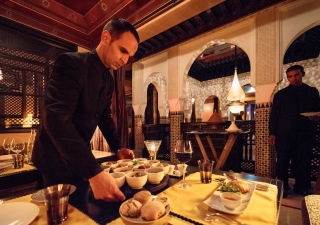 La Mamounia - The restaurant "Le Marocain"
La Mamounia is a destination in itself, offering
pleasures for all senses
, including gastronomy. 'Le Marocain', under the supervision of Chef Rachid Agouray is a must visit, offering traditional cuisine revisited with a contemporary twist, such as the famous lobster & spinach 'pastilla'. Truly memorable!
Août 2019
By Luxe Magazine
You will also like