Watches 2019: Limited editions
This year, artistic design and technical precision take on a new dimension. Luxury watchmakers challenge themselves in terms of sophistication and ingenuity and presents precious pieces...
Jaeger-LeCoultre: Master Ultra Thin Moon Enamel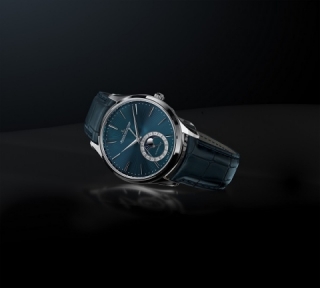 Jaeger Master Ultra Thin
Issued in a
limited series of 100 pieces
, the new Master Ultra Thin Moon Enamel proudly expresses its character in a pure and refined watchmaking style, which translates directly into a new hand-guilloché blue enamel dial, new hour-markers, a new polished moon, and a new engraved counter. Its extremely thin case in white gold (10.04 mm) conceals its engine, the Jaeger-LeCoultre Caliber 925, an automatic mechanical movement with a 70-hour power reserve. The
guilloché enamel exteriors
of these three new Master Ultra Thin Enamel models are a testament to
precision and sophistication
, where blue is featured in all its majesty – a deep, intense midnight blue, which achieves perfect harmony with the cases of these three limited editions.
Alpina: Limited edition AlpinerX Grande Odysée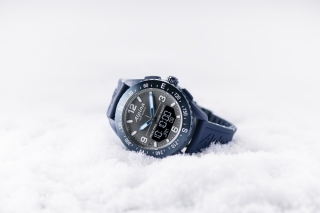 Alpina X Edition limitée Grande Odyssée
Swiss watchmaker Alpina partners with La Grande Odyssée Savoie Mont Blanc as the official timekeeper for the 2019 edition, and will offer number 1 to the winner as a prize. Taking place from 12 to 23 January in the massifs of the French Alps, this mythic sled dog race is synonymous with high adventure and respect for the environment. Equipped with five sensors, the
100% outdoor
smart watch AlpinerX
measures the UV index, temperature, pressure, altitude and direction
. An alliance between the sporty design of a classic Alpina watch and smart technologies, it offers a wide range of functions, visible in real time on the digital screen, divided into three categories: environment, body, time and notifications.
Connected to Smartphone
via Bluetooth BLE, the AlpinerX can be used with the AlpinerX Smart Outdoors application. Water resistant to 100 metres and shock resistant, this sporty watch is finished with a rubber strap in orange, black or blue, depending on the version.
Breitling: Navitimer 1 B01 Chronograph 43 Swissair Edition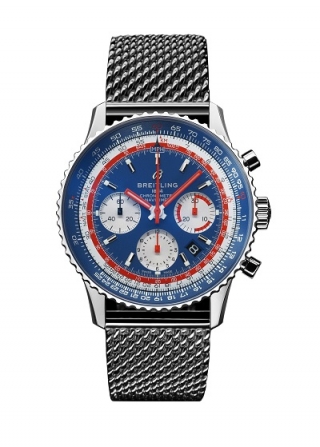 Breitling Airlines Panam
Breitling played an important role in the golden era of aviation, helping crews track the full range of calculations related to navigation. The brand has now created a capsule collection of Navitimer 1 Airline Editions that commemorate the most emblematic airlines of that time. The collection is being launched, appropriately, with the Navitmer 1 BO1 Chronograph 43 Swissair Edition, which will be followed by timepieces celebrating other important airlines of a very special era.
The Navitimer 1 B01 Chronograph 43 Swissair Edition features
a transparent sapphire caseback with a printed Swissair logo
. Its 43-millimeter stainless-steel case is presented with a black dial, silver subdials, and a
vintage-inspired black leather strap
or a stain-less-steel mesh bracelet. The chronograph celebrates the former national airline of Breitling's home country, and will soon be joined by other fine watches honouring iconic carriers whose names are also
synonymous with the golden age of commercial flight
.
Michel Herbelin: Newport Royale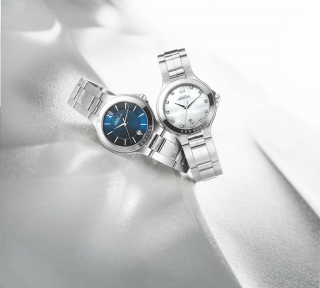 Newport Royale - Michel Herbelin
Inspired by portholes of transatlantic ships
and fit with a strong personality, Newport is the iconic model of French watchmaker Michel Herbelin, established since 1947 in the heart of the Jura mountain range. All of its watches are designed, assembled by hand and inspected in the brand's Franche-Comté workshops. They promote the same philosophy: the creation of timepieces that are designed to last, all the while respecting artisanal know-how and adding a touch of French elegance. Easy to live with, the watch is both
sporty chic
and urban in its total look silver. Showcasing impeccable attention to detail, this Newport model is distinguished by its self-winding mechanical
movement visible
through the transparent caseback. Designed with a steel case and a mother-of-pearl dial embellished with diamonds at 12 and 6 o'clock, this Michel Herbelin watch is a real watchmaking jewel. Its white rubber strap makes it comfortable to wear and confers a sporty, chic style.
Février 2019
By La rédaction