The Art Jewel, Inspired by Nature
The Black Label Masterpiece VII 'Flower Bud Brooch' is an exceptional jewel, full of poetry and elegance, imitating a slow flowering. Incarnation of vitality, nature and hope, it is a nod to her creator, who in 2019 will celebrate the 15th anniversary of Cindy Chao The Art Jewel Maison.
East meets West.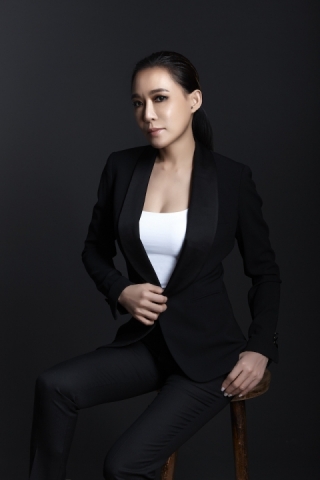 The daughter of a sculptor, the artist was born in
Taiwan
and grew up surrounded by art. A refined fusion of East and West, each jewel is hand carved using an 18e century technique of wax moulding. The artist's Asian sensitivity allows capturing the most ephemeral moments of Nature with the lightest of touch, in hues that vie with
Mother Nature's
own colour palette. "I enjoy going outside immersing myself in the beauty of nature. If I have to illustrate nature using a single colour, I will choose green."
Emerald as a star gemstone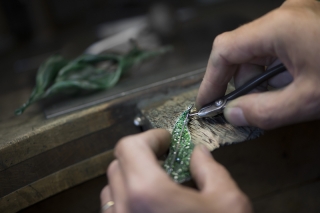 Once again the artist offers a 360-degree creation, lightening the titanium to its maximum to keep only the essential in a manufacture full of virtuosity.
The Flower Bud Brooch
is surprising by its fineness thanks to the organic juxtaposition of the two emeralds (totalling 52.44 carats), 1369 diamonds, 705 tsavorites, 450 diamonds and 28 emeralds cabochons. This creation uses various sizes of diamonds placed in different heights, which gives the brooch a lot of contrast.
An illusion of movement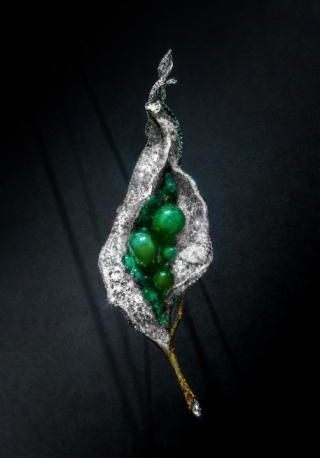 The result of several months of reflection in collaboration with engineers, this piece gives life to an elaborate mechanism, which allows the emerald drops to move freely and lively in the bud. This creation is the result of hard work, as combining titanium and diamonds is indeed not an easy task. The
Flower Bud Brooch
sublimes nature, the artist's main source of inspiration, highlighting the emerald, which is one of the most refined gemstones and so dear to
Cindy Chao
.
Décembre 2018
By La rédaction