Unusual accommodations at the heart of nature
Where would you like to stay ? On the plateau de Bézou at an altitude of 1,600 meters, in a Wild Dome designed for a romantic stay, in an Igloo for an unforgettable night, in a Snow Pod for magical moments or in a design cabin perched in the forest of Sweden ... The choice is yours !
Stay on cloud nine in Sweden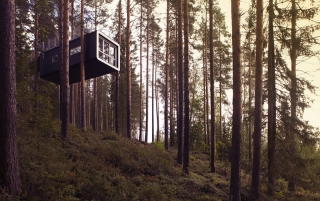 Regarding originality, the Swedish people are number one. Nestled in the trees,
10 meters
above the ground, in the middle of a forest, with a breathtaking view over the
Lule River
, the
Tree Hotels
brand offers various surprising shelters. We especially like the real
bird nest
, the
flying saucer
, the hyper design cabin, the 4x4m
mirrored cube
and also the real cabin that can accommodate a whole family. We can truly say this is an artistic prowess.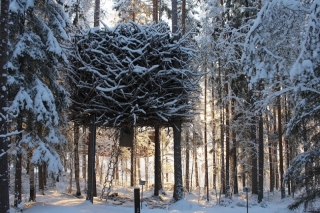 Price : from 500 euros per night
The most transparent one : the Wild Dome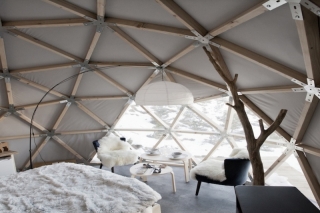 The
Wild Dome
is an original and comfortable dome. As it is partly transparent, you can enjoy an exceptional view on the mountain. Its apparent structure is a mix of
wood and metal
that makes it warm and modern at the same time. Fully equipped and decorated, this is the ideal place to enjoy a romantic escape for a weekend.
Price : From 360 euros per night (breakfast for 2, gourmet Champagne dinner, snowshoe activities, Nordic bath, sauna, slippers, bathrobes, firewood, gondola).
The most exotic one: the Igloo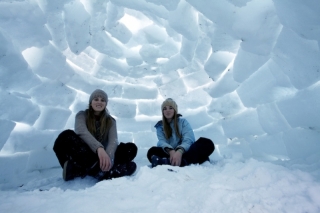 With no water nor electricity
, the igloo is a refuge for
adventurers
. Included in the program, night snowshoeing, relaxation in a
Nordic bath,
meal in the refuge before spending the night in this unusual. An unforgettable experience you should share with your loved one! During the night, the temperature can fall to
-10 °
in the igloo, so a heated sleeping bag is highly recommended !
Price : From 210 euros per night
The smallest one : the Snow Pod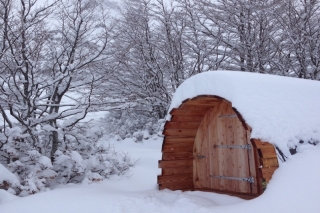 The
Snow Pod
is a very small wooden shelter settled in the middle of the
ski area
. This cozy and warm cocoon can only hold a mattress for two people, so you'll have to spend the evening outdoors, starting with a night
snowshoe
ride to finish in a warm Nordic bath (38°). You will have dinner served in a shelter before retiring into your
habitat. In the comfort of your sleeping bag, you'll watch the snow falling gently or maybe you will admire the
stars
before peacefully falling asleep.
Price : From 210 euros per night
Décembre 2017
You will also like