The most expensive sushis in the world
Gold, diamonds and pearls : Bon Appetit !
A creation by Chef Angelito Araneta Jr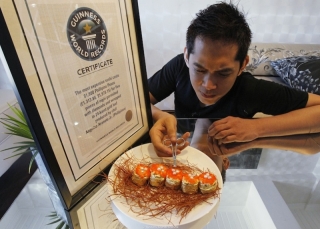 If the demanding art of Sushi makes this ancestral Japanese dish, one of the most expensive gourmet pleasures we adore when we're dying for fresh fish, Filipino Chef
Angelito Araneta Jr
created the most expensive sushis in the world. With "
Carat Chef
" as a nickname, he decided to add
gold, pearl and diamonds
to his Japanese bites when he was only 22 years old. In fact, for "only"
1 700 euros
, you can taste his "
Nigiri Rolls
" served by five, already registered in
Guinness Records
book.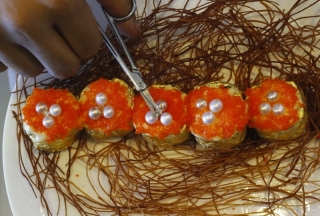 The
Nigiri Rolls
are made of
Pink premium salmon
coming from
Norway
and
Foie Gras
. Then, the famous seawood around the "Roll" is replaced by... an edible
gold leaf of 24 carats
, no less ! On the salmon and its fresh eggs, the Chef delicately puts three
Palawan pearls
(Palawan province is an archipelago from the
Philippines
, located between
Southern China Sea
and
Sulu
sea) but also
African diamonds of 20 carats
. A genuine masterpiece !
Septembre 2017
By La rédaction
You will also like