The Biggest 4K television in the world
Stay seated in your favorite armchair and push the remote control button. Watch the customized fabric cover fold away to reveal the enormous 4K LED TV, the biggest in the world.
A technological extravagance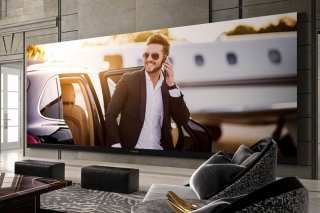 Imagine yourself launching the latest blockbuster, a basketball game or the trendiest video game on this giant screen... The biggest 4K television in the world was created by Austrian brand
C SEED
, founded by two former managers working for
Bang & Olufsen
. The model is called the
C SEED 262
.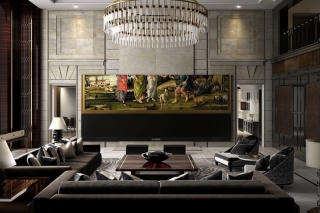 And, the least one can say is that its measures can quickly give you a big buzz between a
262" screen
, a weight of
800 kilograms
, a length of
6,64 meters
, a height of
2,6 meters
and LED 4K screen offering a definition of
4 096 x 1 716 pixels
together with a black LED technology of
800 nits
(luminance units) allowing you to watch your favorite movies even if the sun is bathing your living-room. As for the sound, the screen included
six speakers
and, like in a cinema, by pushing on a button, a protection painting automatically cover your screen to prevent any damage.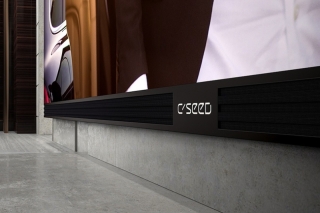 No need to say that you will need a giant living-room or a private cinema room to install such a technological specimen. Its price ?
480 979 euros
plus
34 355 euros
for the... installation fees ! A true marvel to please the richest men and women in the world. Maybe, the "general public" will have access to it if luxurious hotels and palaces decide to add this TV in their suites or private cinema room to satisfy more and more demanding clients.
Juillet 2017
You will also like