"A Backward Glance: Giorgio Morandi and the Old Masters" at the Guggenheim Museum Bilbao
The Museum has thus succeeded in gathering a fascinating set of works by this 20th century Italian painter, together with creations by some of the artists of other periods who captivated him and influenced his work. In this way, tribute is paid both to Giorgio Morandi and to the Old Masters he admired.
Biography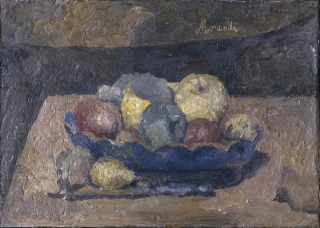 Nature morte aux fruits, 1927, Fondazione Magnani Rocca, Mamiano di Traversatolo © Giorgio Morandi, VEGAP, Bilbao, 2019
Born in Bologna
, Giorgio Morandi (b. 1890; d. 1964) produced his timeless still lifes including those containing vases of flowers, and landscapes
in his studio-bedroom
in his hometown. Between 1907 and 1913, Morandi studied at the
Accademia di Belle Arti of Bologna
and had fleeting contact with Italian Futurism, Italy's iconoclastic avant-garde. In 1919-20, he joined artists including Carlo Carrà and Mario Sironi, as well as Giorgio de Chirico, in the short-lived
Pittura Metafisica movement
. After this interlude, Morandi embarked on a personal artistic quest to explore the genre of the still life; he imbued the
inanimate objects
in his contained compositions with an almost anthropomorphic presence. Coinciding with the
emergence of abstraction
, the return to order, and the international heterodoxy which characterized the post-World War II period, Morandi's works defy classification.
"I felt that only an understanding of the most vital works that painting had produced through the past centuries could guide me in finding my own way." (Giorgio Morandi)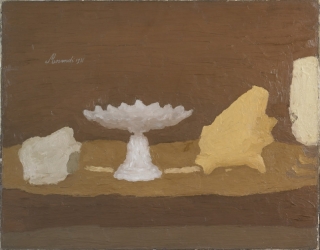 Nature Morte, 1939, Fondation Mattioli Rossi, Suisse © Giorgio Morandi, VEGAP, Bilbao, 2019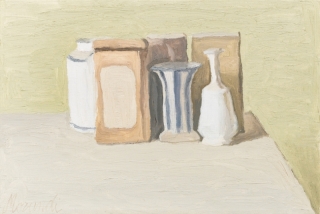 Nature Morte, 1949, Colección Nahmad © Giorgio Morandi, VEGAP, Bilbao, 2019
Morandi was an insightful student of art history who had multiple referents in mind when developing his artistic practice. The exhibition explores
historical influence
s, all of which precede the 19th century, from
three different European countries
: 17th-century Spanish painting and the
tradition of the bodegón
; the Bolognese school of painting from the late 16th to early 18th centuries; and the 18th-century, French painter Jean-Baptiste Siméon
Chardin
. Each section of the exhibition examines a feature prominent in Morandi's works: the theatricality of the Spaniards, the
naturalism of the Italian Seicento
, and the intimacy and geometry of Chardin.
A very poetic work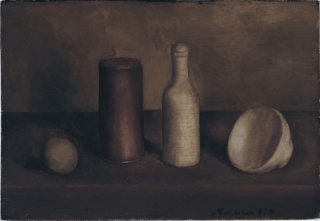 Nature morte, 1920, Istituzione Bologna Musei/Museo Morandi © Giorgio Morandi, VEGAP, Bilbao, 2019
Nature morte, 1956, Fondation Mattioli Rossi, Suisse © Giorgio Morandi, VEGAP, Bilbao, 2019
Beginning in 1920, Giorgio Morandi devoted himself to the
analysis of objects
(bottles, flower vases, boxes, tins) and
landscapes
, which he reduced to their essential forms. The artist rendered his favorite objects again and again arranging them in subtly different ways, focusing on the
infinite pictorial possibilities
these trivial, domestic items provided. His figurative works stand out from other 20th-century paintings for their unique intensity, beauty, and
timelessness
. Representing the most mundane objects, Morandi's still lifes, which are extraordinarily personal in terms of composition and the use of color and
light
, reveal the artist's pursuit of
pure
and concentrated forms.
Avril 2019
By Luxe Magazine